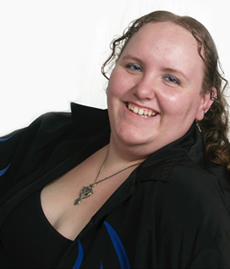 Nicole Moquin
I started writing HTML code when I was 12. Since that time, I have developed a passion for web design. I love being able to show the world all the things that I can create. I think it's fantastic to learn new techniques and technologies as they are always changing, and as the world of web design grows.

I graduated at the top of my class in high school, where I studied Graphic Communications. I was involved with Vocational Industrial Clubs of America (VICA) for all four years. I won the silver medal for Graphic Communtications at the district competition my Junior year, and went on to finish 5th at the state competition.

I attended Fitchburg State College and earned my Bachelor of Science degree in Communications/Media with a concentration in Graphic Design. My sophomore year, my work was chosen to be presented at Visions (a juried student honors exhibition). My junior year, another piece of my work was chosen to be published in a book written by one of my professors.

After graduating, I worked in a graphic design studio in Hubbardston, MA. I learned a lot more about web design and knew it was what I wanted to do. For the last 5 years, I've been working as an in-house designer for a small company in Worcester, MA. I love what I do, and I'm always open to new opportunities.